Bishop-McCann is dedicated to giving back to the community and its people, in any way we can. We focus on organizations and individuals that make a substantial impact by channeling resources to those who are working effectively toward positive change in the world. Our Founder's early and ongoing desire to nurture those willing and ready to make a difference is what drives our people to have a passion in bettering the world today.
The Just Right Projects
Mission: Bishop-McCann is dedicated to making a positive difference in the world. Through "The Just Right Projects," our people express compassion through action.
"The Just Right Projects" is the charitable division of Bishop-McCann dedicated to providing just the right resources at just the right time. Guided by a commitment to giving back, our associates donate time, love and money to organizations and individuals who are creating positive responses to critical community needs. Specifically, The Just Right Projects aid efforts that empower youth, foster hope in healthier living and reward and encourage passion for the arts.
TO APPLY: Email info@justrightprojects.org and include the following:
Cover Letter
Provide a brief history and description of the organization, cause or individual requesting the grant
Explain how your cause aligns with The Just Right Projects' mission and focus
Include the contact person's name, title and daytime contact information
Proposal
Give a more in-depth description of the cause's history and purpose
Outline your needs and how you will utilize the foundation's support
Clearly define the anticipated impact of The Just Right Projects' support
Giving Back in Just the Right Ways
Bishop-McCann associates give back in multiple ways that fell under the Just Right Projects. All organizations we contribute to for the Just Right initiative benefit youth, arts or health programs in the community.
We love donating our time, love and money to the following organizations that are working to make the world better every day: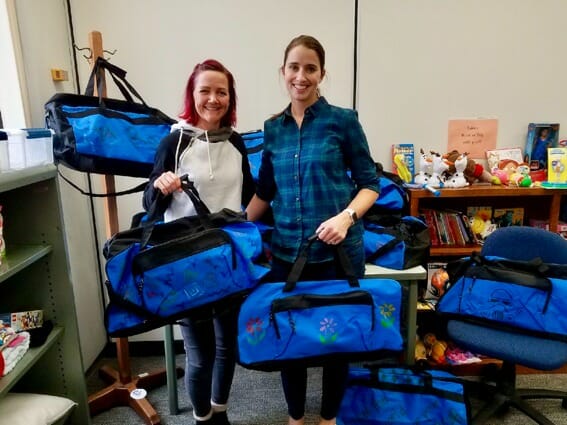 Glide
Abby's Foundation
Kauffman School Corps
Camp Barnabus
Lad Lake
The Garden Project
Soulciety
Huckleberry Youth Programs
Alzheimer's Association
Big Brothers Big Sisters of Kansas City
The Ronald McDonald House
Together We Rise
UMKC Pride
Just Health 510
Children's Mercy of Kansas City
Ewing Marion Kauffman's 100th Birthday was officially celebrated in Kansas City with a week of events across Kansas City. The culminating event was "An Evening in Blue" at the performing arts center held on September 28, 2016 that featured several speakers. Bishop-McCann is proud of our work in support of the event and the video featured on this page is the KCPT story featuring Dan Nilsen & his history and interactions with Mr. Kauffman.
On August 27, 2016, Big Brothers Big Sisters of Greater Kansas City (BBBSKC) hosted their second annual RISE Rooftop Crawl event in the Crossroads district of Kansas City. The event Hosted approximately 1,000 attendees and raised an estimated $335,000.
Guests could attend five rooftop parties in the Crossroads at private locations including Barkley, Lead Bank, smg, Bishop-McCann and the new BBBSKC rooftop. Each rooftop threw a holiday-themed party for sponsors, volunteers and long-time supporters. The holiday-themed rooftops included Mardigras, Cinco de Mayo, New Year's Eve, December holidays and Fourth of July. Each party served signature cocktails and food that coordinated with their theme as well as provided music and entertainment to set the stage.
For more information about Rise, visit www.bbbsrise.org or about Big Brothers Big Sisters, visit www.bbbskc.org.
One of Bishop-McCann's values is to give back to the local community. This is why we are a proud partner of The BIG Slick Celebrity Weekend held on Friday, June 17 – Saturday June 18, 2016 benefiting Children's Mercy Cancer Center. The Children's Mercy Cancer Center mission is to help improve the physical and emotional well-being of children with cancer and their families. The center provides comprehensive care to nearly 2,000 children each year with childhood cancers, sickle cell disease, hemophilia and other blood disorders. For more information can be found at http://bigslickkc.org/