The Bishop-McCann Team: Certifiably Perfect to Get the Job Done
We pride ourselves on being leaders and event professionals in the event, meeting and incentive travel agency… but claims are only backed up by proof. That's why we're so happy to have the proof!
38% of our staff is certified in their specialty to help us make sure you get the most fun, unique and perfect event, meeting or trip possible. This means by working with our certified staff, you can fully trust that your vision for your event or meeting will come true.
Check out these certified team members and get in contact with one of them to start creating your experience today!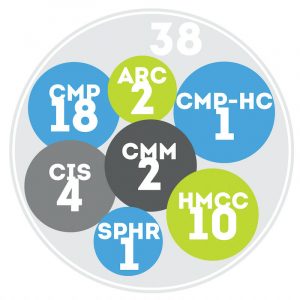 Event, Meeting and Trip Certifications:
Operations: Abby Parker, CMP, HMCC; Andrea Snider, HMCC; Brenda Foster, CIS; Diane DeVoe, CMP; Hosanna Smith, HMCC; Jan Eastman, CMP; Kate Brockway, CMP; Katie Johnson, CMP; Katie Walker, CMP; Kendra Murray, CIS, CMM; Kristin Graham, CMP; Laura Chappell, CMP; Laura Smith, CMP; Mara Warren, HMCC; Melanie Shrader, CMP; Miya Macken, CMP; Reina Young, CMP; Sarah Rash, CMP; Shea Paredes, CMP; Susan Harper, CIS; Wendy Phillips CIS, HMCC 
Sourcing: Nicole McCoy, HMCC; Shirley Hutchins, CMP, HMCC; Tonya Roberts, HMCC; Warren Culbreth, HMCC
AD: Amber Heintz, CMP-HC; Dave Eckberg, CMM, CMP
Sales: Devin Carver, CMP
Air: John Randolph, ARC; Mary Johnston, ARC
Production: Tara Rezen, CMP
Human Resources: Melanie Maddock, SPHR