Lions, Lodges, and Cocktails…Oh My!
African Safari Day Nine
After spending an animal filled day at Sabi Sand, our group moved to Kapama Private Game Reserve. It's about a three hour drive from Lion Sands and 20 minutes from the Hoedspruit Airport, which is a convenient location to reach after taking a direct flight from either Jo-Berg or Cape Town. The lodging was absolutely beautiful.
This reserve has more than 32,000 acres of wilderness, is home to the big five and offers four sophisticated bush camps and lodges. So what's the difference between Kapama and Sabi Sand? Kapama is fenced, which increases the odds of seeing an animal on your safari.
When we got to Kapama, we took a look at four lodges: Kapama Karula, Southern Camp, Buffalo Camp and River Lodge.
Kapama Karula was by far the most luxurious and is definitely on my Top Ten list of favorite properties in the world! Suites are decorated with natural tones and textures and offer the ultimate reward experience for your high achievers.
Karula had 12 suites in total including the family suite shown below:

The three other lodges we visited were also nice. River Lodge is the largest with 60 rooms and suites (perfect for bigger groups), Southern Camp had 25 suites and Buffalo Lodge offers 10 suites.
After seeing all of the different lodges, we arrived to Kapama late afternoon and set out for our third game drive. Our field guide asked which animals we wanted to see…and of course we all said, "the lion!" After also realizing we still needed to see zebras and hippos, we set off.
I'm happy to report that we did, finally, encounter the lion! We also saw the zebras, hippos and more giraffes, elephants and even more Impala.

After another animal packed day, we were headed back to the property. We stopped for cocktails and canapés at the lodges' exclusive tree house. It's actually a functioning sleeping room, but it can be used as a private venue for cocktail receptions. The outdoor area allowed for a perfect view of roaming giraffes and a spectacular sunset.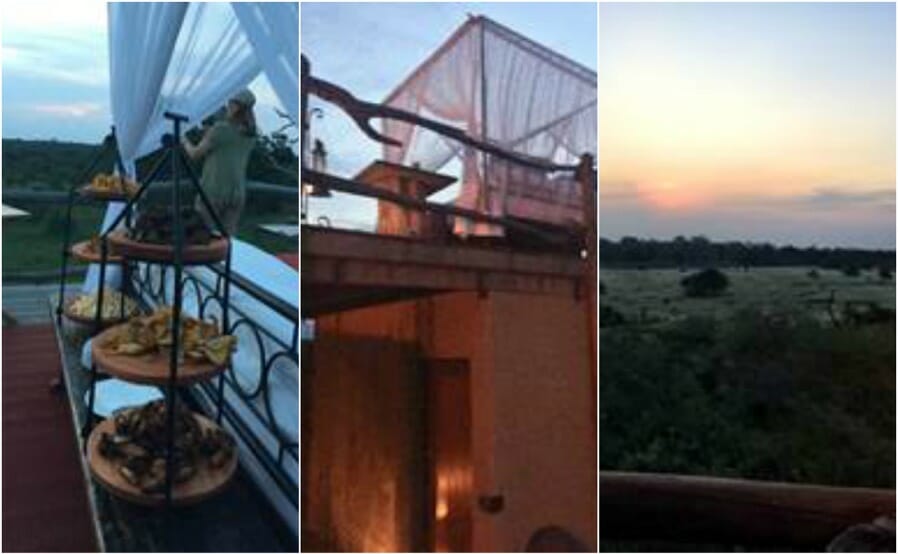 As this trip is beginning to wind down, I've had the opportunity to reflect on the fun I've had and things I've learned on this trip.
Tomorrow starts with a 5:30 a.m. game drive, then we head back to Johannesburg before returning to the United States.
Everyone is excited for the final drive. We stumbled across a sleeping lion pride, stuffed from a fresh kill, on the drive back to the lodge. We're going to head back first thing in the morning to see if they're still there before we head back to Jo-Berg.
– Kendra
Lions, Lodges, and Cocktails…Oh My!
was last modified:
December 7th, 2020
by