Meetings Tech That Boosts Virtual Event Attendance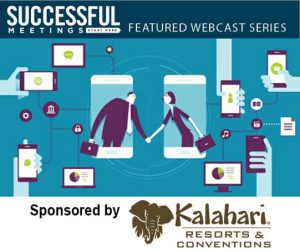 May 17, 2pm EST
CMP Credit – 1 Hour
Today some of the greatest value from a meeting comes from content generated from connections events create outside of the face-to-face conferences themselves. Many corporate event planners are adding this value to their events by leveraging apps, livestreaming, social media, and other event technology tools to expand the footprint of their events. This webinar will cover how to use mobile technology, social media, and streaming video, to create content platforms that increase online attendance and extends the life of content beyond the end of the face-to-face meeting.
Sponsored by Kalahari Resorts & Conventions
MODERATOR
Vincent Alonzo, Editor-In-Chief, Successful Meetings
SPEAKERS
Leslie Wingler, Director, PCMA Digital Experience Institute

Leslie Wingler has been living and breathing virtual events for over seven years. Currently, she is the director of PCMA's Digital Experience Institute where she manages and produces the digital event strategist certification online course and various DEI digital events.
Prior to joining PCMA, Leslie was a manager of digital events where she produced live and on demand webinars, trained session speakers and worked with professional development teams to produce online courses.
Hillary Bamont, Sales Director, Bishop-McCann

Hillary Bamont has over 20 years of experience in bringing brands to life through experiential events. She has held key positions at Ketchum Public Relations, Hyatt Hotels and Symantec Corporation, where she was an integral part in creating strategic brand events that focused on measurable results and return on investment. Her ability to understand client needs is invaluable and has resulted in contributing to Bishop-McCann's growth year over year.
Meetings Tech That Boosts Virtual Event Attendance
was last modified:
March 1st, 2020
by