Interactive F&B Experiences Connect Attendees to Their Meetings
By Maura Keller
Originally posted on TheMeetingMagazines.com
April 1, 2018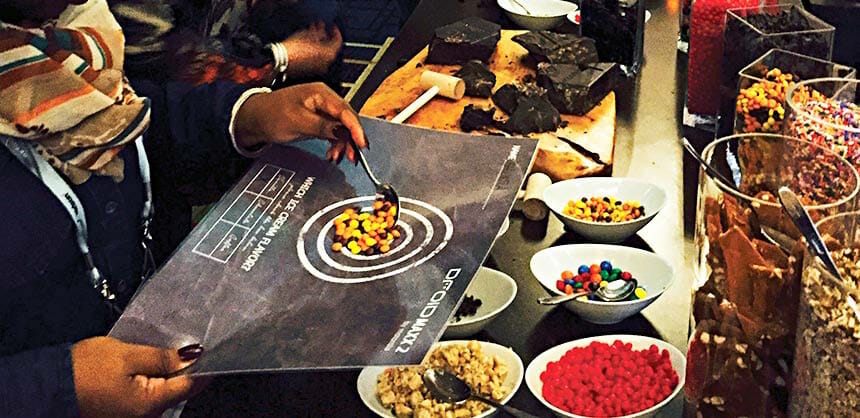 As corporate meeting and event planners become food savvy and demand a wider range of flavors, unique food and beverage options are now viewed as a straightforward way to please attendees and keep them coming back for more.
Today's meeting and event attendees are looking for more in their food and beverage choices. They are seeking healthy, nourishing and wholesome selections, presented in a unique and eye-catching way to create a more meaningful experience.
According to Susan Harper, CIS, program manager at Bishop-McCann, today's experiential food trends mean meeting and event planners need to think outside the buffet line. "Menu selections and food presentation is one component of corporate event planning that is often overlooked," Harper says. "At the same time, it is also one of the top experiences that your attendees will remember. Put in the time and research to make it exceed expectations."
Indeed, as Tracy Stuckrath, CSEP, CMM, CHC, at Thrive! Meetings & Events explains, the idea of attendees coming together for a meal seems the most normal thing in the world for corporate event planners. It is a quintessential aspect of any event. However, there's a distinct difference between sharing a meal and making food together. "Simply sitting down at a banquet table with colleagues to get a pre-designed menu doesn't have the same bonding effect as cooking a meal with someone else," Stuckrath says. "By incorporating experiential food and beverage into the event, planners provide attendees another means to engage with each other. Experiential learning and sharing encourages the formation and reinforcement of relationships, fosters teamwork and togetherness, promotes creativity, teaches problem-solving and organization, and it promotes social responsibility."
Use Local Food
One way to promote attendee engagement is to incorporate local specialties into all of the menus. Include brands such as community-specific craft beer or local dishes that celebrate a region's flair, e.g., paella or jambalaya in New Orleans.
"Locally sourced food is a huge one right now," says Kim Sayatovic at Belladeux Events. "People are looking to have items that are from the area. People are more health-conscious than ever, so having snacks that cater to that is always a good idea. This can be done with a yogurt bar with offerings of different flavors and types along with toppings."
Belladeux Events is based in New Orleans so Sayatovic and her team love pairing experiential elements with the menu. Crawfish boils are a regular favorite, as well as an oyster bar where attendees can learn to shuck oysters.
"We bring in food trucks as well. This can actually be a particularly fun surprise at the end of the evening, Sayatovic says. "I mean, who would ever turn down a beignet night cap?"
"Attendees appreciate the food quality, menu diversity and bringing a taste of the outside world into the meeting room," Harper says. "Clients will enjoy the positive feedback and buzz. And with a few tips or tricks, the budget will also welcome it." Recently Harper incorporated an experiential food experience for an event for Motorola. To highlight Motorola's new Droid Maxx 2 mobile phone with shatterproof display, Bishop-McCann created an "Ice Cream Shatter Bar." Guests used custom placemats to select ice cream mix-ins, shatter them with a mallet, and then have their mix-ins folded into the ice cream flavor of their choice. "At another event, we challenged the W Chicago City Center to create an interactive Burrata Bar for a welcome dinner," Harper says. The result was a huge hit and the reaction was so positive that the hotel decided to add the station to their standard menu options.
"Every food experience is dependent on the chef," Harper says. "Great experiences are the result of a positive engagement and partnership between planner, CSM and chef. Challenge the chef with new ideas." Collaborate by having the chef create parts of the custom menu. Ask them: What have they always wanted to do? What new technology have they been eager to incorporate into an event?
One of the key ways to enhance experiential food and beverage events is by incorporating meeting themes or messaging within the menu selections, food displays and labeling. "And a new setting can refresh your attendees," Harper says. "Ask if there are unique areas to hold one or more of the daytime meals other than a meeting room. Is there a hotel restaurant that is closed during the day that can be utilized?"
Play With Your Food!
was last modified:
March 1st, 2020
by