Snapchat Spectacles: A Unique Way to Share Your Meeting or Event Experiences!
Here at our corporate event management agency, Bishop-McCann, we're all about making sure we work with our clients to give their corporate event or meeting attendees or employees on incentive trips the best experience possible. Using the Snapchat Spectacles technology can help make this happen!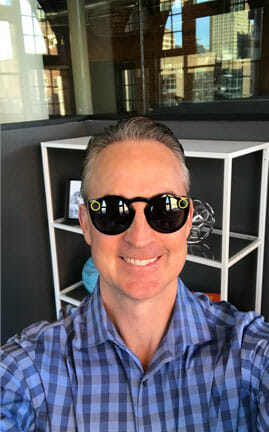 Doing so means keeping up with our clients, current events and the world of ever-changing technology.
Many seem to be consumed with the idea of being multiple places around the world by being present on other people's mobile devices using Snapchat.
Whether they are snapping pictures of their dinner, taking a selfie with a unique geofilter that pin-points their location at that moment in time or taking a 10 second video of their surroundings, people are all about being seen.
This "addiction" could be derived from society's, especially the younger generation's, growing desire not to miss out on any interesting facet of life.
So how does this form of social media tie back into Bishop-McCann or your next corporate event, meeting or incentive trip?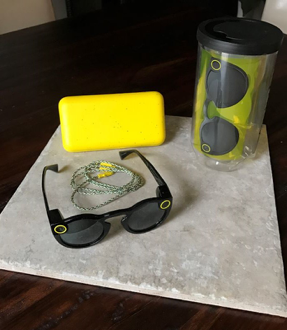 One of our capabilities here at Bishop-McCann is creating virtual meetings through technology. Snapchat could allow us to take that one-step further.
Snapchat's new hands-free, content capturing sunglasses, Snapchat Spectacles, could be changing how people attend and experience meetings, corporate events and trips. It is one of many fun corporate event ideas Bishop-McCann has to offer.
Take our Verizon "Destination" event, for example: With tons of out-door experiences like concerts and celebrity meet and greets, event attendees could have easily shared their experience with the convenience of not being tied to their phones.
With the push of a button, the advanced technology of these savvy sunglasses can capture 10-second hands-free videos of what the user is seeing or experiencing. These videos and experiences are then shared to the digital world and allows followers to become a part of the same experience, even though they might not physically be there…a whole new definition to virtual meetings.
While these glasses could have a lot of great opportunities for creating the best attendee experience possible, there are some downsides.
In an article for the L.A. Times, Paresh Dave explained some downsides to the spectacles.
"Downloading videos to the Snapchat app on a smartphone is low and buggy…Spectacles aren't perfect. They make boring wide shots and blurry night recordings. They don't take stills and don't zoom. And indoor usage is unlikely because wearing sunglasses inside is weird," Dave said.
Dave also said that while Spectacles still allow users to use the geofilters that can place them at a specific location at that moment in time, those filters depend on where the video from the glasses was imported to a mobile device instead of where it was filmed.
Snapchat Spectacles are brand new, so naturally, there are still some kinks that need to be worked out, but would you consider sending an employee on an incentive trip with them?
Would you allow employees at your next meeting to wear them and capture the environment you and Bishop-McCann helped create?
Let us know your thoughts about using Spectacles for things like outdoor events, meetings and incentive trips by tweeting with the hashtag #SpecsForBMC.
Get snapping!
Tracy Kinsey
VP Sales & Marketing
Bishop-McCann
Snapchat Spectacles: A Unique Way to Share Your Meeting or Event Experiences!
was last modified:
December 7th, 2020
by