Bishop-McCann Connections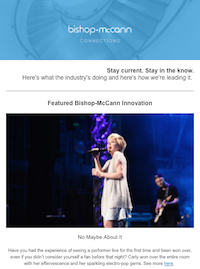 Launched this week: Bishop-McCann Connections. The Bishop-McCann Connections newsletter has been designed to keep people in the know of industry initiatives and how Bishop-McCann continues to innovate. We want to be able to "connect" with our clients more. The post introduces new ideas by Bishop-McCann, starting with our recent performance by Carly Rae Jepsen and our "Up, Up & Away Aruba" incentive trip that goes beyond imagination. We then talk about industry trends: You can't step out the door without hearing about technology, so check out how Bishop-McCann is heightening the event experience by going mobile! Also, has anyone asked you to do more with less dollars? We thought so. Look how Bishop-McCann maximizes event budgets by implementing creative, customer-focused sponsorship packages. Finally, keep up with BMC and what's goin' on.
Interested in learning more? Subscribe to our Bishop-McCann Connections newsletter here. We are sure you will be interested, inspired, and engaged with the content you find. We look forward to connecting with you!
About Bishop-McCann
Bishop-McCann is one of the industry leaders in producing meetings, incentive programs and corporate events worldwide. Headquartered in Kansas City, Missouri, with offices in Chicago and San Francisco. Bishop-McCann's mission statement: We Create Joy!
Bishop-McCann Connections
was last modified:
December 7th, 2020
by