Stop Planning Meetings. Start Designing Experiences.
MPI World Education Congress 2017 – Takeaways and Insights
Thousands of corporate event planners across the globe came together for essential professional development and lead generating opportunities. Most of all, we came together at the MPI conference for an experience that helped to attempt to understand the massive shift of our industry.
The very core of what we do is changing and the change is clear: People don't want to attend; they want to have invigorating experiences and life changing memories. But this isn't just happening in our corporate event world. Across the globe and throughout all generations (not just the millennials, eh?) people are searching and paying for new adventures. Recent studies show that Baby Boomers through the youngest of the millennials are shopping for experiences; and of course, instantly sharing them through social media.
People used to vote with their wallets; now they vote with their time.
So, how do we as corporate event planners design the most exclusive and stimulating experiences? Well, Meeting Professionals International's World Education Congress 2017 set out to explain just that.
Here are my top takeaways on how to stop planning corporate events and start creating experiences:
BE A DISRUPTOR: …well, thanks for that. How do you become a disruptor when you're not sure what there is to disrupt?
Think about the people that have created disruption within our lives and solved a problem we didn't know existed. Take Uber for an example. No one had a problem with taxi's; they're just fine. But how many of us utilize Uber for the convenience factor we didn't know existed before? Or what about AirBNB? Square readers and Dollar Shave Club? No one saw any of these companies coming. So how do we bring about disruption within each one of our events?
We do this by diving deep into the mind of our stakeholders; analyzing risks, design, delivery. By approaching our event design with the stakeholder's desired outcome at the forefront of our mind, we're able to more clearly see the value we can provide to our clients and solve issues for them before they know it themselves. Then we begin to create true value to our clients and attendees.
In a session titled: From Event Design Thinking to Event Design Doing, I learned how to begin mapping out a strategic management template for developing new events by creating an #EventCanvas. It begins by taking in our stakeholders prospective, resolving pains and creating gains within a set framework of commitment and expected return. The canvas articulates behaviors of stakeholders so you can clearly begin to create solutions for your clients.
PERSONALIZATION IS EVERYTHING. Whether it's a hotel remembering a guest's name, a marketing blitz with a tailored touch or driving event attendance, the personalized bit means everything to an event attendee. Emotional connection drives relationships with consumers and increases loyalty. In a session titled: Masterclass: From the Expression economy to the Experience economy – Start winning the battle for time, start designing experience, Ron Tite, told a compelling story of a hotel chain remembering his preferences for Diet Coke and barbeque chips. Upon his return to the hotel years later, the hotel had left him a sampling of homemade barbeque chips and diet cokes in a champagne cooler. What a way to increase loyalty from your clients and attendees!
BE A REBEL WITH A CAUSE: With the experience economy evolving, it's all about values and attitude. It's important to embrace who you are and understand the WHY. Why do we do what we do every day? "Because I love it" isn't a good enough answer anymore. At Bishop-McCann, we've begun to try to put our finger on why we create event experiences. We do this to bring joy to every one of our attendees. It's important for us to make sure our attendees feel included so they're free to be their absolute most authentic self and truly feel that their experiences with us are unlike anything else.
World Education Congress 2017 was filled with insightful takeaways on how to design experiences for our attendees. Not only did WEC deliver on education, it delivered high impact entertainment, from the Jabbawockeez to the Blue Man Group! Thank you to MPI for a wonderful educational 'experience'!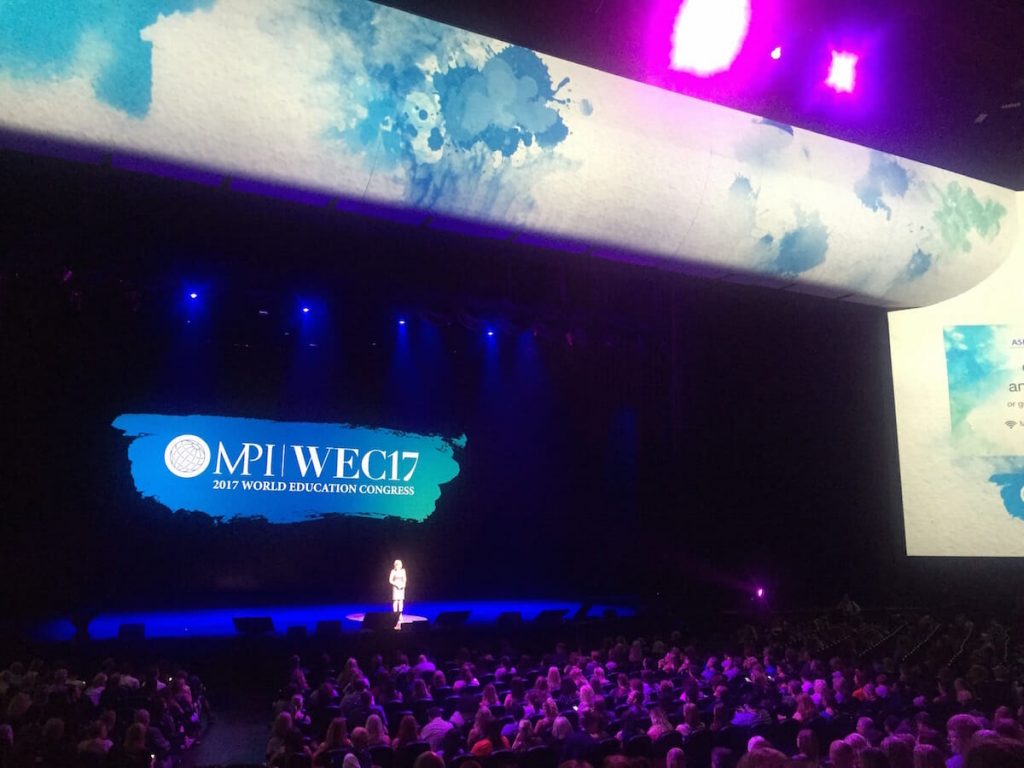 About MPI
Meeting Professionals International (MPI) is the largest meeting and special event industry association worldwide. The organization provides innovative and relevant education, networking opportunities and business exchanges, and acts as a prominent voice for the promotion and growth of the industry. MPI has a global community of 60,000 meeting and special event professionals including more than 17,000 engaged members and the Plan Your Meetings non-traditional corporate event planner audience. It has more than 90 chapters and clubs in 24 countries. For additional information or to join, visit www.mpiweb.org. The Meeting Professionals International Kansas City Chapter (MPIKC) is the leading regional organization committed to shaping and defining the meeting and event industry. MPIKC's goal is to build a rich, global meeting industry community with its members successfully creating relationships, keeping ahead of industry trends in the marketplace, and sharing ideas and knowledge.
About MPIKC
Founded in 1981, MPIKC currently has more than 180 members representing planners from the corporate, association, government, religious and non-profit sectors, as well as independent planners and suppliers. A majority of members have been in the industry for more than 15 years and represent organizations within a 150-mile radius of Kansas City. MPIKC is committed to providing premier education, technological and networking resources to benefit each member's personal and professional development. In addition, the chapter plays a vital role in the economy, producing an estimated $301 million in buying power for the meetings planned by members.
About the MPI Foundation
The Meeting Professionals International (MPI) Foundation fuels the growth and advancement of MPI members by providing professional development and career opportunities through grants and scholarships. The not-for-profit organization also propels the meeting and event industry forward by funding important and quality research initiatives. For more information, visit www.mpiweb.org/foundation.
About Bishop-McCann
Bishop-McCann is one of the industry leaders in producing meetings, incentive programs and corporate events worldwide. Headquartered in Kansas City, Mo., with offices in Chicago, San Francisco and Minneapolis, Bishop-McCann's mission statement – We create joy, by including everyone so they are free to be their most authentic self.
Stop Planning Meetings. Start Designing Experiences.
was last modified:
December 7th, 2020
by