Collaborating with Expedia Group's In-House Meeting and Event Planners Results in a Bigger, Better Conference
Challenge/Opportunity
For the last several years, Expedia Group used their in-house team spread across several departments to produce their annual sales conference. But on the 20th anniversary of the event, they wanted to create something outstanding—something that would truly make an impression on the attendees. The group hired Bishop-McCann to step in, plan, execute, and manage the 2019 conference for more than 3,500 attendees, including all of their partner agencies and Expedia Group brand representatives.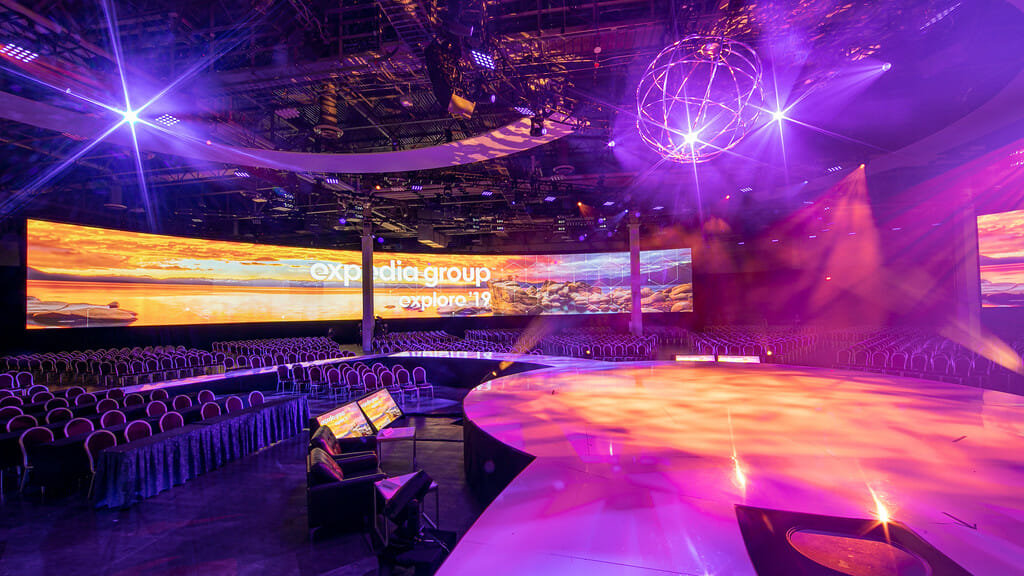 Since the Expedia team had never worked with a professional corporate event planning partner before, our goal was not only to make this event bigger and better than it ever had been but also to simplify the management of the process for the in-house team.
After months of planning, we welcomed 3,500 attendees to the Venetian Palazzo in Las Vegas for three days of business presentations, inspirational speakers, a trade show, awards, networking events, and most of all—fun.
Response/Solution
Our team began collaborating with the Expedia team. We brought a fresh, creative flair to the event and planned everything around the Expedia Group's mission statement: "Bring the world within reach." The Expedia Group explore '19 conference was going to be unforgettable.
We started the conference with a general session that was staged "in the round" to elevate the attendee experience. The circular stage was surrounded by 3,173 square feet of screens, and the program featured esteemed and recognized speakers like former Secretary of State and four-star general Colin Powell, tennis legend Billie Jean King, endurance athlete Colin O'Brady, psychologist Angela Duckworth, and broadcast journalist Robin Roberts. Entertainment acts were showcased between presentations and included a Cirque du Soleil performance and a mentalist. Some performances required re-rigging the stage in between presentations, and all went smoothly. "Our production design was an evolution for them and the way they managed their visual presentations," said Bishop-McCann Creative Director, Eric Olson.
In the past, this was a huge undertaking for the in-house Expedia Group team, but as a professional planning company, we had the visibility of seeing the entire show from start to finish. Whenever we plan an event, we see it as a whole, cohesive program. This is a great benefit compared to using in-house team members that may only be doing specific parts of the show and looking at it from their viewpoint.
"It's hard to trust another company to do something you've been doing for years," said Bishop-McCann Account Director, Terra Cook. "But they worked very collaboratively with us, and all of the Expedia Group team members told us it was a very positive experience."
"The moment the former show caller saw what we were doing and how we were managing the show, he saw us as a resource and became a great partner working with us to make sure the show went off without a hitch," said Olson. "Our task was to make all of the entertainment and presentations work in that same space, and it was successful because of the collaboration."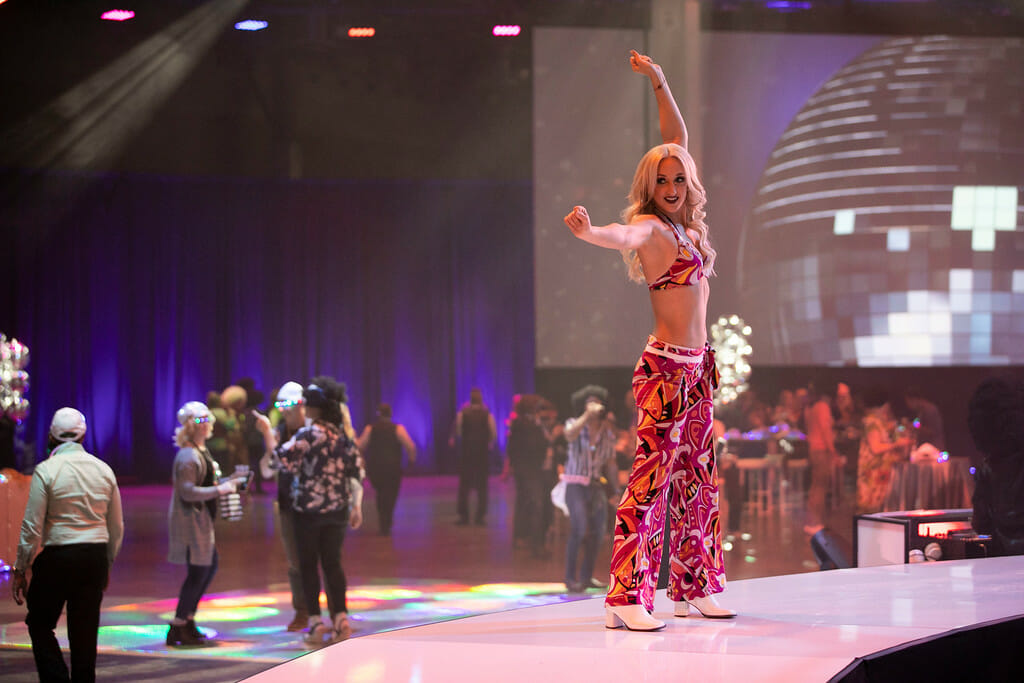 Evening events included a 1970's-themed costume party, and we transformed the general session room into a discotheque. The closing reception was a party at the well-known Las Vegas night club, Drai's, where we awarded and recognized top performers.
Bishop-McCann provided a dedicated account team and creative lead to partner closely with the Expedia Group corporate team. We seamlessly executed each program component, including event theme concept, design concepts, all creative, mobile app, attendee registration, production, food and beverage management, sponsorship packages, event logistics, and transportation.
Outcome/Results
Bishop-McCann delivered the program ensuring that every detail was taken care of, and our client partner, along with attendees, left the event extremely satisfied. Expedia Group was very appreciative and mentioned that it was the best meeting yet. The creative design, event production, and sponsorship opportunities exceeded the client's expectations, giving them a stronger perspective that set the stage for what they could achieve in 2020. They invested not only in our partnership but in our institutional knowledge, and it was an overwhelming success.
One of our planning partners at Expedia Group said, "Kudos to the explore '19 planning team, who in a year of an ultimate test and learn, pulled off an incredible, bigger than ever before partner conference event!"
Other comments from the Expedia Group team included:
"Don't ever stop what you are doing because it's how you are doing it that makes you guys a great partner."
"I learned a lot about overall travel trends, the direction of Expedia. I had the opportunity to network with different suppliers and divisions of Expedia…it was all worthwhile!!"
"Our executives really enjoyed the executive track. They felt they got a lot more out of it."
"99% of the feedback I got was about just how awesome it was!"
"BMC production crew were exceptional."
"Explore'19 was truly impressive and a big step above any of our previous conferences. It felt on the same level as I imagine a Microsoft or Apple conference would be."
A fruitful client retreat and debrief meeting with Expedia Group was held a month after the event. "We always strive to truly partner with all of our clients and to be seen as an extension of their company. That was certainly evidenced during this event, and we look forward to planning many more events with this amazing group," said Cook.