Creating Windstream's Enterprise Leadership Summit
Challenge/Opportunity
When Windstream needed an agency to produce their 2022 Windstream Enterprise Leadership Summit, they turned to the experts at Bishop-McCann to create their spectacular event. For the Leadership Summit, Windstream envisioned a four-day, in-person event for 180 attendees, taking place at JW Marriott Sawgrass in Ponte Vedra, Florida. This was our first year creating this event for Windstream, and our team was determined to make it an unforgettable experience.
Due to the Omicron variant, we needed to showcase our flexibility by transforming this live event to a hybrid event. Not only did our team have to determine a way to reach all of our attendees through a new format, but we also had to consider the health and safety of those who were attending in person.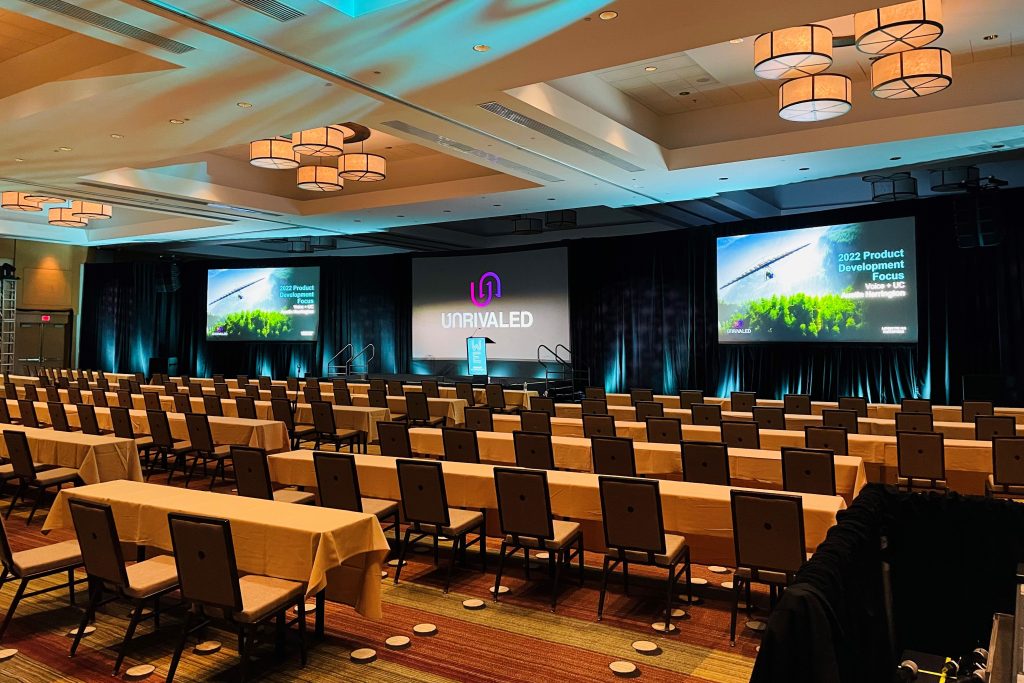 Response/Solution
To create a program that reached all of Windstream's guests, our team took an event that was originally intended to be entirely live and pivoted to include hybrid components. We did this by livestreaming the general session via a custom WordPress website that was created the week of the show. We also pre-recorded one of the presenters' sessions via Zoom, broadcasting this content with the general session. Our team even livestreamed this presenter, so he could say "hello" to the group in real time while his session was being broadcast. All of these adjustments ensured that no matter where our attendees were, they were able to gain the full experience of the summit.
We also had to consider what health and safety protocols to enact to keep our audience safe during this leadership summit. To do this, we administered COVID tests for attendees and required masks during the summit. With these requirements in place, we were able to create an event in which attendees felt safe and comfortable.
In order to set the overall tone, we created the theme for the event: "Unrivaled." While acting as a declaration that Windstream would not be constrained by the norms surrounding their industry, the theme also represented a promise to the audience – that they would be given unmatched support and freedom to innovate and seize opportunities as they leveraged the evolution of their industry, company, and world as a whole. After developing this theme, a theme package was built, including the logo and additional graphics. "Unrivaled" and all of its accompanying graphics were utilized throughout the conference and general session presentations.
To kick off the event, the summit began with a powerful opening video, but that was just the beginning of the stunning graphics that were utilized from start to finish. The program consisted of a welcome reception with dinner, breakouts, an off-site dinner, and various off-site activities, along with sponsorship tables. While handling all the necessary adjustments efficiently and effectively, our team managed various aspects of the event, including registration, food and beverage, hotel management, production, and creative development.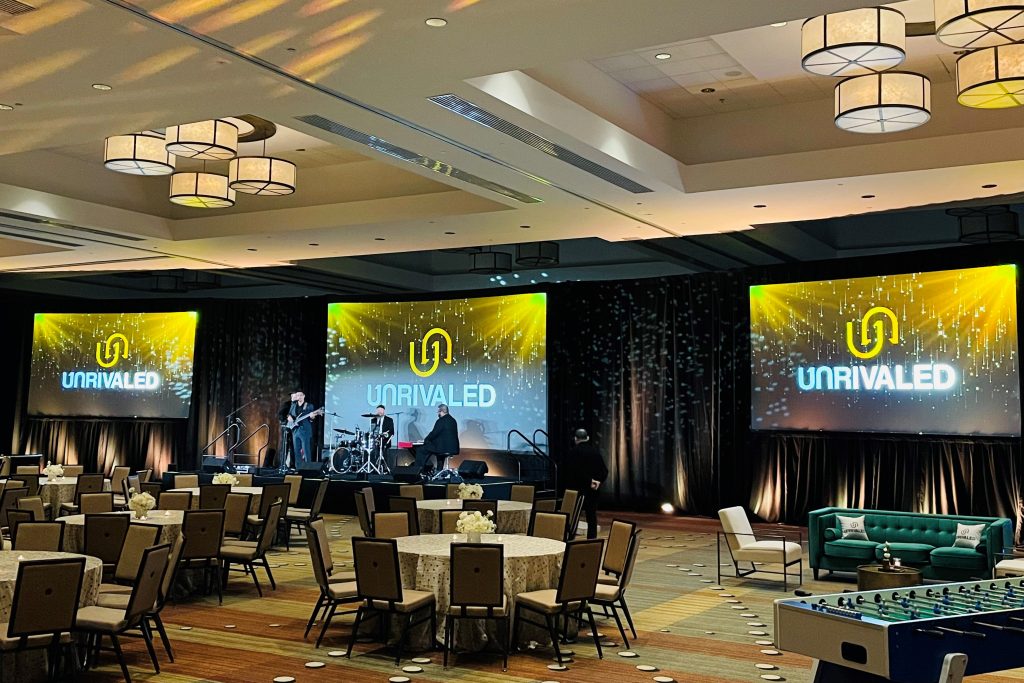 Outcome/Results
Even after having to transform this originally live event into one with hybrid components, we were able to successfully execute Windstream's Enterprise Leadership Summit. From developing an overall theme to livestreaming the broadcast to those at home, our team created an event that attendees found memorable and engaging.
After the program came to an end, our team was elated to discover the amount of JOY they were able to create for Windstream's audience. The client gave fantastic feedback and shared some amazing attendee responses:
"This was one of the best leadership meetings I've been to in almost 15 years. It was professional, energizing, motivating, and inclusive. I looked forward to each session, and I was bummed when it was over."
"Excellent job; great job navigating COVID concerns and pulling this off during Omicron."
"I personally thought this event was the best sales kickoff that I have attended at Windstream. Great venue, meals, entertainment, and relative messaging."
"The marketing and branding changes are awesome, and the video content is on another level from previous kickoffs."
"Fantastic event. One of the better leadership events I have ever attended."
"I have been to at least 10 of these kickoff meetings at 5 different companies, and this was by far the best one!!"
"This was my first Windstream leadership event . . . by far one of the best leadership events that I've attended in my career."
"By far the best sales kickoff I've been to."
"This was the most amazing and productive kickoff I have attended since joining WIN! We are 'unrivaled!'"
"I thought the event was well planned and executed, great content and communication. The meals and activities were amazing, really felt like Windstream appreciates its employees/management."
"Love the guest speaker and how artfully everything was tied together."
"Outstanding event, great content, and a good flow each day. Marketing was outstanding."
Knowing attendees thought that the program we created was one of the best events they had ever attended is one of the highest compliments we could receive. Our team's hard work paid off, and we were filled with JOY that we were able to put on a summit that the audience enjoyed so much. We can't wait to create Windstream's next event!